Lenora's Love and Cuddle Nursery
Loving care is given to each little one from the moment it arrives until the moment it is on its way to its new mommy.




The Teddies are all hand made artist bears...one of a kind! It is wonderful to watch these Teddies come to life in my hands...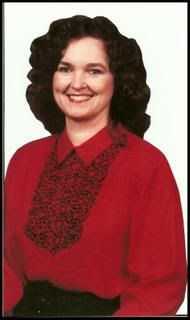 About The Artist:
My name is Lenora and I am the artist at
Love and Cuddle Nursery.
I have been reborning and newborning baby dolls for over
four years. I have been making dolls and animals for over 40 years!
Each baby is unique, custom made and will not be repeated.
Every Teddy is a one of a kind bear not to be repeated.
A piece of my heart goes into each little one that I create.
They become heirlooms to pass down for generations to enjoy.




Customers are an important part of my Art
and are very much appreciated!
As we all know, no one can mass produce a true to life
OOAK (one of a kind) Baby,
much less one that looks and feels so realistic.
To make Collectors and also other Reborn Artists aware,
there are new *terms* that Reborn Artists are trying to get out to their
customers/collectors as well as the entire Reborn World.
OOAK or "One Of A Kind" and OARB or ''Original Artist Reborn Babies''
will now be key words which you may want to use as a search in browsing
the internet or E-Bay for finding your true OOAK or OARB Reborn babies.
Using this term will assure you that you are finding a True Reborn Baby
created with love and dedication from a Reborn Artist
and not a ''factory reborn'' from a company.

The Teddies are ''Artist Bears'', one of a kind. If you desire a Teddy for a young child please ask...Safety issues have to be addressed for those bears.





What are a Reborn and a Newborn?
Through a process called ''Reborning'', a high quality play
doll is transformed into a collectible work of art that is
amazingly lifelike. Different techniques are used to produce
the features and appearance that the artist desires
in each doll. No two are ever alike. For a ''Newborn'' the
artist uses blank vinyl or silicone parts to produce the new
baby. A reborn is a play doll that is transformed
into a beautiful one of a kind baby.
There are many Reborn Artists, and each one has her
or his own method of doing things. An Artist will use the
techniques that bring about the most lifelike ''baby''. Many
hours of individual attention go into each baby.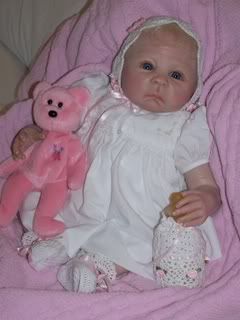 BABIES


The world's first Teddy bear with movable arms, legs and head were designed and created by Richard Steiff, the nephew of Margarete Steiff. Margarete Steiff (1847 - 1909), confined to a wheelchair since the age of two, earned her living as a seamstress. In her spare time she made little elephants from spare pieces of felt, which she stuffed and gave to her family and friends as gifts. The elephants were very popular and soon she started making other animals. In 1902 Richard Steiff persuaded his aunt to make the fabric bear he had designed from drawings he made at the Stuttgart zoo. The little jointed bear made its appearance at the Leipzig Spring Fair in 1903, but attracted very little attention.

On the last day of the fair, as the Steiff brothers where packing up their wooden crates, Hermann Berg, a buyer for the New York firm Goe Borgfeldt & Co, visited their stand. Berg complaining that he couldn't find anything new at the fair that year and so the little jointed bear was presented to him. Hermann Berg was so taken with the little fellow that he ordered 3000 bears on the spot.


Around the same time Clifford K Berryman, a well known political cartoonist drew President Teddy Rooseveldt refusing to kill a bear cub captured during a hunting expedition. He referred to the bear cub as ''Teddy's bear''. This cartoon captioned: ''Drawing the line in Mississipi'' was printed in The Washington Post on 16 November 1902. The 16th of November 2002 marks the 100th Birthday of 'The Teddy Bear'.

This cartoon caused quite a stir, which gave Morris Michtom, the owner of a stationary and novelty shop, an idea. He designed a little jointed bear, which resembled the little bear in the cartoon. His wife Rose made the little bear from light coloured fur fabric and stuffed it with wood wool. The little bear also had two black shoe button eyes. The little bears were displayed in the shop's window along with the cartoon and a handwritten notice saying ''Teddy's bear''.

Michtom apparently asked President Teddy Rooseveldt for permission to use the name ''Teddy's bear'' for his new little fabric toy. Rooseveldt agreed. These little bears became a great success and Michtom soon after closed his shop and set up a toy factory which became the largest toy company in America, the Ideal Toy Corporation.


The name was cemented when early Steiff bears were used as table decorations at the wedding reception of President Rooseveldt's daughter. The bears were dressed as huntsmen and fishermen. Teddy Rooseveldt was so enchanted by the bears that when someone at the reception commented on what species they belonged to, Rooseveldt replied, ''Teddys bears, of course'', and the rest, as they say, is history.

My bears are original designs unless otherwise stated. They are crafted of the finest materials available; German mohair, English mohair, or faux fur and glass eyes. They are stuffed with silky polyfil and glass beads for weight. Each bear is given a special hug before being shipped to his new owner.

Click the link below to visit the bears...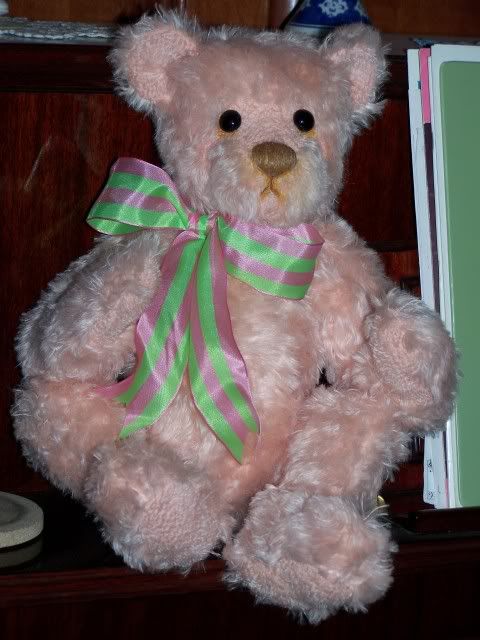 BEARS


The babies at Love and Cuddle Nursery are lovingly crafted with great attention to detail. Each baby is lovingly cared for from the moment it arrives at the nursery. It is cleaned and bathed before the artistic painting process begins. Each baby takes many days of labor to create. When the painting process is finished the rooting of the top quality mohair begins. This is quite labor intensive but well worth it for the realistic look of the baby. The babies are weighted to have the feel of a real newborn baby. There is no sand used in these babies...no problems with customs!

Each of the Teddy bears are hand crafted one of a kind bears. These are artist bears and if you wish to have a bear for a young child please contact me. The bears for children must have safety issues considered. The artist bears are for 15 years and older...just young at heart!

Many hours and days and sometimes weeks go into the making of a bear. Only quality ''ingredients'' are used and lovingly shaped into a beautiful ''Teddy Bear''.

For custom babies please contact me at the e-mail address below.
Thanks you so much for looking at my little ones.